Changing the engine oil is a must task if you own a vehicle, boat, lawn mower or anything like these. But most of the time, this is a task that needs you to take a lot of hassles. Hassles include uplifting the vehicle or crawling under it, cleaning spilled oil and so on.
If you are not interested in taking the hassles, there is solution for you too. If you want to spend a few bucks for avoiding the hassles for a long time, you should get an oil extractor. Oil extractors allow you to perform oil changing works efficiently without creating any mess.
But you'll find a lot of fluid evacuators available in the market. So, being confused is a very common matter. Want me to help with that? Continue reading.
In this article, I've reviewed some top-rated oil extractors available in the market. From home use to a professional garage use, here I've talked about most of the types. I've also added a buying guide which will lead you to pick up the best oil extractor according to your need.
---
Top 10 Best Oil Extractor Available in the Market in 2020
1. Mityvac 7201 Fluid Evacuator Plus – Best Fluid Evacuator
If you are looking for an easy and convenient way of extracting oil or any other liquid, you must keep this at the top of your buying list. Mityvac 7201 is an oil extractor from Mityvac which is designed to extract most types of fluids as well as ensure maximum user-friendliness.
This fluid evacuator comes with a 0.23″ OD x 5′ long (5.7 mm OD x 1.5 m long) dipstick tube, 0.26″ OD x 5′ long (6.6 mm OD x 1.5 m long) dipstick tube, 0.41″ OD x 5′ long (10 mm OD x 1.5 m long) main evacuation tube, and a huge 8.8 L (2.3 gallon) reservoir.
The reservoir is constructed using durable and strong polyethylene. Because of its material and build quality, it'll serve you for a long time without any chance of getting rust or corrode.
Using this tool is very easy. You don't need to be a professional to make it work. Also, it comes with a very user-friendly feature which is Automatic Flow Control Valve. This valve automatically shuts it off when 8 L is filled. As the capacity is 8.8 L, shutting off at 8 L prevents overflow and saves you from the hazard of cleaning the floor.
It works great. So, you won't have to lift your car and crawl under it to check when you are taking out oil from the car tank. This extractor has made oil extraction really easy and comfortable.
Pros
User friendly

Easy to use

Comes with feature that prevents overflow

Built using durable material

Large reservoir
Cons
---
2.

EWK 6.5L Oil Extractor Pump – Top Rated Oil Extractor
For a simple and quick oil extraction job, this oil extractor from EWK is ideal in my opinion. It comes with an easy process of getting the fluids out from vehicle engine or anywhere.
The package includes one 6.5 L oil extractor tank, one 39.3 inch x 0.31 inch x 0.39 inch main tube, one 39.3 inch x 0.21 inch x 0.26 inch extension tube and one 39.3 inch x 0.16 inch x 0.24 inch extension tube with wire.
It comes with two different modes of oil extraction- manual mode and pneumatic mode. In manual mode, you won't need any other equipment. In pneumatic mode, you may need an air compressor but you'll get the job done really fast. In pneumatic mode, the extraction speed is almost 1.6 L per minute.
This oil pump has made oil extraction really easy. You won't have to lift the car or do something like this. Insert the tube and start extracting- the process is this simple. With the help of this tool, you can change oil anytime, anywhere. What's more do you need?
Pros
Sturdy build quality

Simple to use

Made for long time use

Has option for super-fast oil extraction

Can be used anywhere
Cons
Doesn't come with printed instruction. But, you'll find a video instruction in YouTube
---
3. EXtoil 6-Liter Oil Extractor with Vacuum Gauge
Another convenient tool for your oil extraction operation is this one from EXtoil. It minimizes the chance of oil spilling to zero. It has some more features for ensuring user comfort. So, let's take a look at this one.
This extractor comes with a strong and sturdy 6 L oil reservoir built to last for a long time. There are 3 different sized tubes to ensure that it fits to most types of oil extraction tasks. The tubes are also made to be durable and handle toughest oil extraction situations. The integrated sealed tube-holder prevents mess created by spilling oil.
It comes with an extra-long pump travel. This ensures maximum oil extraction with minimum press on the pump. Also, there is an exclusive vacuum gauge on the top of the tool to make sure that you know when to stop pushing the pump. This feature has made the tool super-convenient for the users.
To make your oil extraction operation more convenient, this tool comes with some small yet helpful features. For example- the flip-down foot pedal ensures comfortable and safe operation. The comfortable gripped handle makes sure you can carry the reservoir easily to the place where you recycle or dump oil. The pointed pour spout makes sure you can empty the reservoir easily.
Pros
Strong and durable

Extra-long pump travel

Features to ensure convenient oil extraction

Vacuum gauge included
Cons
---
4. EWK 15L Oil Changer Fluid Vacuum Extractor – Pneumatic Fluid Extractor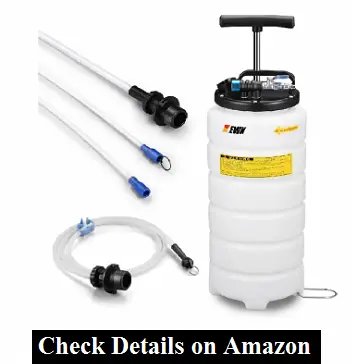 If you are performing oil extraction work for some big vehicles, you'll need a large tank to store all the oil once. In that case, this beast from EWK can help you. It comes with a reservoir of 15 L which gives you enough space to get all the oil out at once from large vehicle engines.
Besides of the reservoir, you'll get one 39.3 inch x 0.31 inch x 0.39 inch main tube, one 39.3 inch x 0.21 inch x 0.26 inch extension tube and one 39.3 inch x 0.16 inch x 0.24 inch extension tube with wire. There is also a 59.0 inch x 0.16 inch x 0.32 inch brake bleeding hose with it too. Thus, you can use it as a brake bleeder too.
It comes with both pneumatic mode and manual mode to give you the option of choosing your comfort. The pneumatic mode is really fast and is able to extract oil at around 1.6 L per minute speed. You can also use the manual mode if you want. It's your choice.
Safe operation is something that was kept in head while designing and manufacturing the extractor. That's why it comes with safety lock design that seals the spout properly. Safety is also ensured as it is made of polypropylene which can withstand up to 200°F temperature easily.
Pros
Ensures safety

Goes great with extracting oil from large cars

Comes with brake bleeding hose

Both pneumatic and manual mode

Super-fast extracting in pneumatic mode
Cons
---
5. OEMTOOLS Manual Extractor 24397 9.5 Liter Hand-Pump Evacuator
When you are looking for an extractor that can help you extracting a wide range of fluids, I'll suggest you to check this best oil extractor pump from OEMTOOLS. I know, you'll love it if you use it once. This amazing extractor allows you to extract different types of oils including oil, radiator coolant, water and many more.
The tool includes a reservoir that can reserve 2.5 gallon of fluid, 31.25 inch dipstick fluid removal tube and 5 feet pneumatic tube. It comes in a single piece structure. The hand pump is placed inside the reservoir.
Using this tool is really easy. All you need to do is inserting the fluid-removal tube to dipstick tube and start pumping. Don't worry about over pumping. When the fluid level reaches to the maximum level, the automatic shut-off system stops extracting fluids. Thus it saves the time and energy wasted to handle oil spill. The leak-proof bottom design also saved you from the similar problem.
There is a handle with the tool too. So, you can carry it easily wherever you want. As the capacity is 2.5 gallon, you can use for extracting oil from cars, boats, tractors and even small aeroplanes.
Pros
Convenient and easy to use

Can work with different fluids

Floating design ensures safety from overflow

Satisfactory tank capacity
Cons
It would be good if the dipstick tube would be a bit longer.
---
6. Air Power America 5060TS Topsider Multi-Purpose Fluid Extractor
This oil extractor from AirPower America is small but reliable one for people who want a mess free oil extraction process. Though it is small in size, it can handle regular oil extraction tasks easily without any mess.
It comes with a round tank that can hold up to 8 quart (2 gallons) of liquid easily. The diameter of the tank is 12 inches. Thus it ensures stable base. As a result, it sits of the surface properly and reduces the chance of accidental oil spilling. Also, the huge diameter has made the tank précised in height. So, you can use it anywhere easily.
This oil extractor is a manual one where you'll have to use vacuum pump to extract the oil. But the task is really easy. Attach the vacuum pump and hoses with the tanks and close the clamp. To ensure that you've created a proper vacuum, pump 40 strokes. Then, insert the suction probe into the dipstick tube and release the pinch clamp. It will do the rest.
The tank and pump are made of heavy-duty steel to ensure that you can use the extractor for a long time. The steel handle has made it easy-to-carry. Not only cars or boats, you can use it to extract oil from lawn mowers, tillers, generators, ATV, outboard motors, motorcycles etc.
Pros
Small and handy

Fits in tough spaces. So storing is convenient.

For small and medium oil extracting tasks

Stable on its base
Cons
An automatic shut off feature could make it more user-friendly.
---
7. ARKSEN 20 Gallon Portable Waste Oil Drain Tank
If you own a garage of your own and do oil draining jobs regularly, you can grab this beast for making extraction tasks way more convenient. This huge but portable oil drain tank allows you to collect waste oil easily from uplifted vehicles in a garage.
It comes with a huge 20 gallon waste oil collection tank. The tank is made of rugged steel which has made it durable and strong. In spite of its weight and size, it is very portable and convenient to use as there are two 3" swivel casters at the front and two 6" fixed wheels at the back. The large handle also contributes in handling the tank conveniently.
This oil extractor collects oil from lifted vehicles through a funnel that comes with 15" diameter. The funnel also has a filter screen. The funnel height can be adjusted from 45 inch to 72.5 inch. This feature has made oil collection safe.
It comes with another feature which has made it easy to transfer the oil from the tank to recycling container of any height. The oil lift drain special valve allows doing the task fast and easily. So, you won't have to be worried about transferring the collected oil from this huge tank.
Pros
Oil draining is easy from vehicles in any height

Huge capacity of 20 gallon

Large yet portable

Rugged steel construction

Easy transfer to recycling tanks
Cons
Setting up for the first time needs slight modification
---
8. JohnDow Industries Crew Chief JDI-6EV 6 Gallon Best Fluid Evacuator
When you are looking for a regular fluid extractor but need a bit more portability, this one from JohnDow Industries is something that you can't ignore. To ensure that you get a comfortable and convenient fluid extraction experience, it comes with a handful of features.
The extractor comes in a single package with all the necessary equipment. Heavy-duty steel construction has made it durable. The fluid reservoir can handle 6 gallon fluid at once. Thus it will allow you to perform extracting task easily without taking breaks.
With the tool, there come six suction probes. This versatility will help you to use it for most fluid extracting application. For the probes, you'll find a convenient storage tube with the tool. The powerful venturi vacuum system has made the tool efficient. The 7 feet suction hose also ensures comfortable operation. In it, you'll also find 10 feet quick disconnect evacuating hose that comes with self-evacuating feature.
To ensure maximum portability, it comes with two 7-inch fixed rear wheels. The wheels and casters are made to oil and chemical resistance so that these can serve you for a long time.
Pros
Portable with two durable wheels

Six different suction probes ensure versatility

Powerful venture vacuum system

Quick disconnect evacuating system
Cons
It takes time to such out oil properly
---
9. Hydro-Turf Oil Extractor 6-Liter OIL01
A convenient and affordable option for DIY oil changing is this one from Hydro-turf. With the help of this tool, oil changing is very easy. For performing a no mess oil-extracting operation, you can keep it in your preferences.
The oil changer comes with a 6-liter oil container, a pump and necessary tubes to make oil changing easy and hassle-free. With a few strokes of the pump, you can extract the last drop of oil from your vehicle engine. It also comes to a pour-spout, which helps to empty the container easily when needed. All the parts of this extractor are durable to withstand with the temperature of the oil. So, you can expect a long service time.
To ensure convenient storing option, the pump above can be disjointed from the container and stored separately. There is a stable base with the container which keeps it steady. It goes with oil extracting operations of snowmobiles, motorcycles, cars, ATVs, personal watercrafts and more.
Pros
Easy to use

Durable and stable

Convenient features

Great for DIYers
Cons
You need to hold the pump while pumping.
---
10. Jabsco 17850-1012 DIY Oil Changer
If you are a DIYer and do all your car maintenance at home by yourself, this one from Jabsco is ideal for you. This oil changer is just the perfect tool for DIY oil changing of vehicles, boats, lawn mowers and so on.
It comes with a durable container, an 8 feet oil and heat resistant ¼ inch suction tube, and 6 feet battery leads with alligator clip. This self-contained oil changing system can take around 5 minutes to extract oil through engine's dipstick tube in 160°F temperature. The included fuse ensures better performance and safety.
For holding comfort, the container comes with a convenient handle. Thus, you can take it easily to dumping place after changing the oil.
With the help of this, you can change engine oil without any tension. But don't try other oils, especially gasoline. It is not designed for gasoline.
Pros
Small and handy

Perfect for DIY oil changing

Works quick and great

Durable enough to serve you for a long time
Cons
Seems to be a bit expensive
---
Best Oil Extractor Buying Guide 
To purchase the best fluid extractor for your tasks, you need to keep your eyes of a few things. Let's know more about those.
The size of the reservoir must be the first thing to focus on when you are thinking of buying an extractor. Depending on your task, the size you should choose varies. If you are a DIYer and looking for something that can help you in oil extracting process at home, go for small options.
On the other hand, if you have your own mechanical garage and do oil extraction jobs a few times a day, you need to keep eyes on the extractors with large reservoirs. Large reservoirs will allow you to hold oil for the whole day and dump at once.
Keeping your eyes on safety and convenience is a must when you are going to buy an oil extractor. Safety features allow you to keep yourself and your place safe from unwanted situations.
Oil extractors make oil extracting jobs convenient. But there are some which come with a few more features for ensuring user comfort, for example- automatic shut off valve, long extraction tube, firm lock in the joints etc. Look for such features too.
Size of the Whole Extractor
No matter where you use, storing is a big concern. That's why, the size of the extractor is important. Besides of storing ability, there is another point for which you need to focus on the size.
If you are travelling frequently and thinking of doing this type of work by your own on the road, you need to get a small extractor. On the other hand, for home or garage use, buying small one is not mandatory.
Portability is a big issue when you are buying an oil extractor as you'll have to dump the oil you've extracted to somewhere else. Almost all the extractors come with handles. In case of large ones, only a handle doesn't help that much.
If you are buying a large one, make sure that there are wheels that help you to move it easily. Also, make sure that you'll be comfortable while handling it.
You won't purchase oil extractors every day. So, while buying, make sure that the one you are buying is that one that can support you for a long time. Look at the build quality and build material. Check the user reviews to get better idea.
---
How to Use Oil Extractor to Change Engine Oil
---
Difference Between Draining Engine Oil and Extracting Engine Oil
Draining and extracting are two ways of getting rid of old engine oil.
Draining engine oil means removing the plug at the bottom of the vehicle so that all the used oil comes out due to gravity and become stored in storage. This process might be fast as gravity supports it. But, it may make the situation messy through oil spilling. Also, to drain, you'll have to lift the vehicle or go under it. So, the process is a bit tough.
On the other hand, in extraction process, the oil is extracted directly from the engine to the reservoir. So, you won't have to lift the car or go under it. This process requires tubes. As a result, there is zero chance of oil spilling.
---
Frequently Asked Questions (FAQ) About Oil Extractor
How do oil extractors bring out oil from the tank?
Answer: It depends on the extractor you are using. The basic principle is- it creates an empty space inside the reservoir so that the oil comes through the tube and the empty space gets filled. Some extractors create the empty space using hand pump. On the other hand, some need a power source to do this.
Each comes with instructions, so you won't have to worry about it. You'll find the instructions in the internet too.
What are the types of oil extractors?
Answer: You'll find three types of extractors available in the market- manual extractor, pneumatic extractor and electric extractors. In manual extractors, you'll have to use the pump in order to start extracting oil.
Pneumatic oil extractors require an air compressor which will do the job for you. And lastly, the electric extractors use the energy from the vehicle battery to extract the engine oil.
Can I use oil extractor to extract all types of oils?
Answer: Most of the tools of this type are made for extracting engine oil. So, you may find it tough to extract other types of oils. You might end up with a messed up situation like oil spilling or not bringing out the oil fully.
So, before trying this, make sure your extractor can do the job. You'll find few which can help you with extracting other types of oils too. The instruction guide comes with the instructor will tell you about this.
---
Final Verdict
Picking up the best oil extractor for you is always your choice. In this article, I've tried to give you some ideas so that choosing one becomes easy for you. You can take advice from your family, friends or neighbours too.
If you've used any of the above previously, let me know your experience. If you have one better than these in mind, feel free to share your opinion with us. We would love to talk about that and add to the list if it fits in.